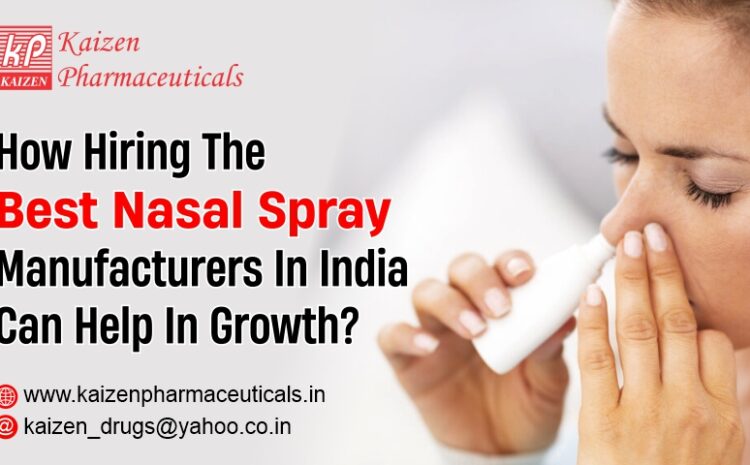 Manufacturing pharmaceuticals is a tedious process that few small pharma companies can afford. Several operations require expertise, time, and money, from setting up a plant to hiring experts and acquiring raw materials. Therefore, to make the process easy and more effective, one can employ the best third-party manufacturing company. Nasal Spray Manufacturers in India will take orders, acquire the raw materials, produce medicine as per the guidelines, and deliver in a set time.
Less investment
One of the reasons why hiring a third-party manufacturing company can be beneficial for a pharmaceutical company is; cost-effectiveness. Setting up a manufacturing unit to buy tools and machinery and hiring experts can be quite expensive. Hiring a third-party company will help in saving money in the long run. One can choose a company that fits one's budget and outsource the manufacturing without investing capital in setting up a plant.
Better efficiency
Manufacturing pharmaceuticals is a complex process. There are several stages from acquiring raw materials and equipment to packaging and distribution. Smaller companies with fewer resources and a workforce cannot handle the demand and supply rush as efficiently as required. But a manufacturing company can help meet this demand and also help make the process more efficient in terms of time and resources.
Experience in industry
A good manufacturing company will have the required experience in the market. They will know about the industry's standards, the best sources of raw materials, better operational processes, etc. So if one is new to the industry or has less knowledge of the pharma market, then working with an experienced third-party manufacturing company can be beneficial.
Easy to scale
Increasing the scale of production is not easy. This can be an issue when one is producing their medicines. When the company gets expanded, the show also needs to be increased. This means more equipment, cost, labor, and expertise. However, if one chooses to hire Nasal Drops Manufacturers in India, the scale of production can increase immediately. This means fewer headaches, less cost, and an easy transition from small to large.
Operational quality
When a manufacturing company is old and experienced, it can provide various other support services to the hiring company. A good company will have equipment and labor to deliver all sizes and types of projects. This helps ease the operational rush and allows the hiring company to focus on other functions. Also, if one is looking to hire a third-party manufacturing company, choosing a company specializing in a particular market, type of medication, and category can be helpful.
Better quality and reach
Lastly, hiring a pharma manufacturing company means you can rely on their quality. Industry standards recognize many high-quality certified companies. This helps in increasing the reputation of the medicines to be sold. Also, a highly reputed manufacturing company will help reach a larger market. It will help improve its sales and revenue and hike brand awareness in less time. Finding a highly reputed and experienced company like Kaizen Pharmaceuticals will help up the final product quality and help lower the cost. This can be highly effective in enhancing the profits and will allow the company to grow with time.