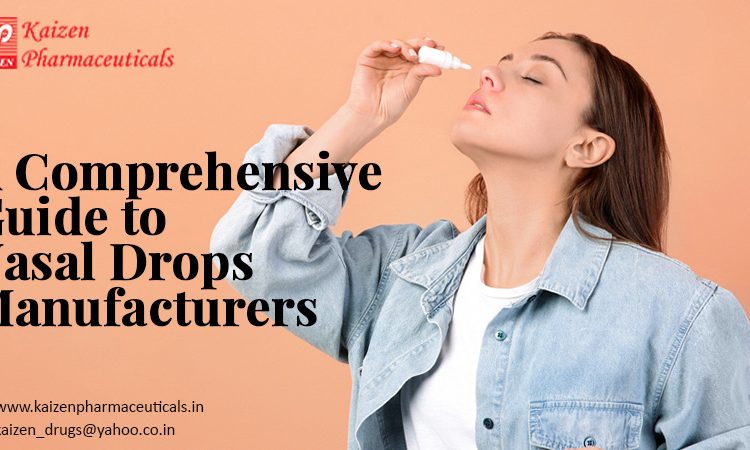 When you want to invest in nasal drops, there are a lot of manufacturers to choose from in the market. That's why we put together this comprehensive guide to nasal drops manufacturers.
In this guide, you'll find information on the products and philosophy of some of the top nasal spray manufacturers in the business. We hope this information helps you make an informed decision about which manufacturer is suitable for you.
What Are the Benefits of Using a Nasal Drops Manufacturer?
There are a few benefits of using a manufacturer of nasal drops. The primary benefit of this manufacturer is that you can get high-quality, consistent products. When you work with a reputable nasal drop company, you know that you're getting products that have been tested and are of the highest quality. You also don't have to worry about the quality of the ingredients because the manufacturer is responsible for sourcing them.
Another benefit of working with a nasal drop company is you can get custom formulations. If you have specific requirements for your product, the manufacturer can help you create a custom formulation that meets those needs. You'll also get access to their knowledge and expertise, so you can be sure you're using the best possible ingredients in your product.
Additionally, a nasal drop company can help you with product development. If you have an idea for a new nasal drops product, the manufacturer can help you bring it to life. They have the expertise and resources to develop and produce your product quickly and efficiently.
Finally, working with a nasal spray company can save time and money. Instead of sourcing ingredients yourself for manufacturing the product, you can order the finished product from the manufacturer. It can save you more time and hassle and help you get a better price on the finished nasal product.
Overall, using a nasal drop manufacturer is a great way to get high-quality products you can trust.
How to Ensure Quality Control When Manufacturing Nasal Drops?
When it comes to nasal drops, quality is of the utmost importance. After all, you don't want to end up with a product that doesn't work, making your symptoms worse. So how do you ensure quality control when manufacturing nasal drops?
The first step is to choose a reputable and reliable nasal drops manufacturer. Kaizen Pharmaceuticals has over two decades of experience in the industry and a commitment to quality and safety. They use the latest technologies and rigorous testing procedures to ensure that their products meet the highest standards.
In addition, they also have a comprehensive quality assurance program in place that includes inspections at every stage of the manufacturing process, from raw materials to packaging. It ensures its products are consistently high quality and meet all regulatory requirements.
In short, there are a variety of nasal spray manufacturers to choose from, and each has its own set of pros and cons. However, Kaizen Pharmaceuticals seems to be the best bet, as they offer a wide range of products, have a solid reputation, and are affordable.